Features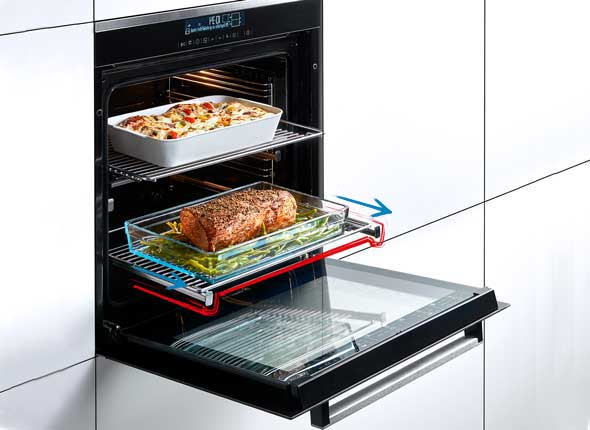 Telescopic Wire Shelves
Helping to make using your oven easier, our fully extendable telescopic wire shelves allow you to move heavy dishes in and out of your oven comfortably and safely.
Easy to Remove Side Racks
Making cleaning the inside of your oven less of a chore, these side racks can be quickly and easily removed.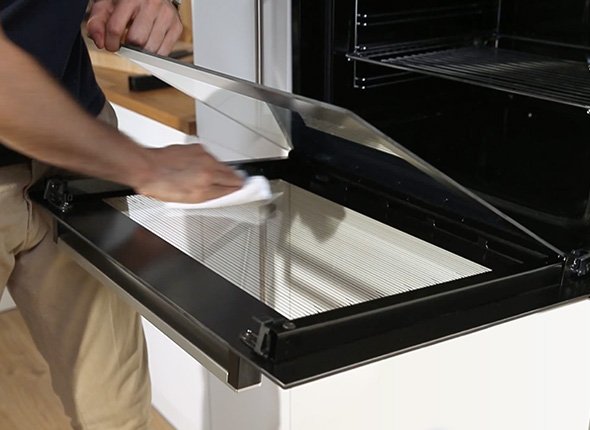 Removable Oven Door Glass
Cleaning your oven's door is easier than ever with the easy-to-remove inner glass door. Free of bolts, you can comfortably slide the glass door out to help you clean even those hard-to-reach spots.
Pyrolytic Self-Cleaning Function
Save time in the kitchen with our ovens that clean themselves at the touch of a button. The oven heats up to a super-hot 480°C, burning away dirt and grease, and then all you have to do is use a damp cloth to wipe clean.
2 year guarantee on all Beko Built-in appliances
Your appliance comes with a 1 year manufacturers guarantee.
You must register your appliance within 90 days of purchase to extend it to 2 years free of charge.
A Energy Rating
Helping save money on your energy bills, all of our built-in ovens have a minimum energy rating of A.
True Fan Cooking
Always achieve perfectly roasted meat and evenly baked desserts with True Fan Cooking in Beko ovens. The heating element surrounding the fan offers uniform heat throughout the oven for perfect, quick and even cooking results.
Multi-function Oven
Bake perfect cupcakes, roast a delicious Sunday dinner or use the grill to make a hearty but healthy breakfast. A multi-function oven provides you with the ultimate in cooking flexibility by combining a fan and conventional oven, a grill and a host of different cooking functions.
Interior Oven Light
You can easily keep an eye on your food as it cooks thanks to the interior oven light.
Family Size Tray
Perfect for batch baking, this oven comes with an extra-large family tray, providing a 25% larger cooking area. And, with a depth of 55mm, the tray is great for roasting too.
Touch Control Animated LED Display
Choosing the perfect cooking function has never been simpler, thanks to our touch screen display that lets you navigate using symbols, and even shows you the perfect tray position for your dish. For added control, you can also use the dials to set the function you'd like, along with the precise cooking temperature.
Large 82L Oven Capacity
Cooking a Sunday roast for the family has never been easier, thanks to our huge 82L oven. With a capacity 15% larger than the standard, it still only takes up the same amount of space as a standard oven.
UK's No 1
Beko are the UK's number 1 best selling large home appliance brand†. Designed to make your life easier, thanks to super-fast programmes and helpful technologies, Beko products deliver exceptional value for money, providing stylish, high quality, innovative and energy-efficient home appliances.
†Source Euromonitor International Limited; Consumer Appliances 2020 ed, as per major appliances definition, retail volume sales in units, 2019 data
Specifications
Dimensions & Weights
Product Height (mm)
595
Product width (mm)
594
Product depth (mm)
567
Carton height (mm)
655
Carton width (mm)
660
Carton depth (mm)
660
Net Weight (kg)
44.4
Gross Weight (kg)
48.1
Main Cavity
Number of Glasses
4
Grill Pan with Internal Rack
Yes
Pyrolytic Self Cleaning
Yes
Removable catalytic side walls
No
Removable catalytic back wall
NO
Volume (litre)
82
Oven Type
Fully Featured Multifunctional Oven
Grill Power (kW)
2.2
Fully Variable Grill
Yes
Open or Closed Door Grilling
CLOSED
Tilted Grill
no
Door Type
Full Glass
Door opening
Drop down
Easy to Clean Enamel Colour
Black
Removable Door Glass
YES
Interior Light
Yes
Type of Interior Light
CIRCULAR
Shelf Positions
6
Turnspit
no
Pizza Pan
no
MeatProbe
no
Lava Stone
no
Glass Tray
no
Energy Rating
A
Shelves
2
Cavity Type
Easy to remove side racks
General Features
Oven Type
Built-in Single Oven
Controls
Dial Control
No
Push in/ Push out control knobs
No
Touch Control
Yes
Control Panel Type
Metal
Yes
Timer
Type
Fully programmable Animated LED timer
Function
Clock and oven programmer
Oven Functions
Static Cooking
Yes
Fan Grilling
Yes
Fan Heating
Yes
Full Grill Cooking
Yes
Installation
Minimum Fuse Protection
13 amp
Furniture Apperture height – mm
590
Furniture Apperture width – mm
560
Furniture Apperture depth – mm
550
Carry Handles
Yes
Consumption Values & Other Technical Specification
CE Approved
Yes
Energy Consumption-Main Oven (Kw/h)
0.92