Features
Fast Freeze Setting
Ideal for locking in your food's vitamins and nutrients, the fast freeze setting in the top compartments of our freezers freeze your food 10% faster than the other shelves.
Freezer Guard Technology
Whether you need to place your freezer in your garage, outbuilding or anywhere else in your home, our Freezer Guard technology ensures your freezer will always function properly, even in temperatures as low as -15°C. We do not recommend you use your fridge compartment in low ambient temperatures.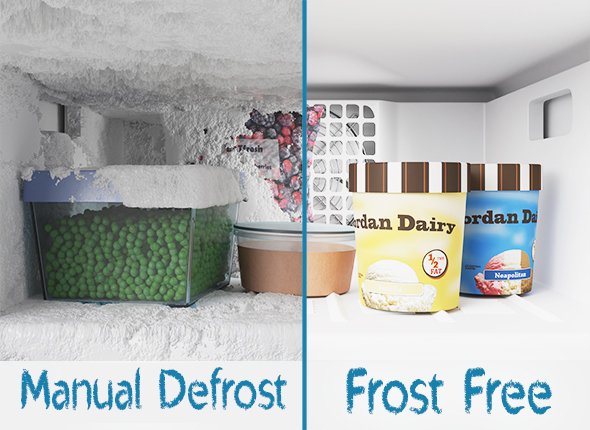 Frost Free
Defrosting the ice build-up in your freezer is a time-consuming and frustrating job, but it can be avoided with Frost Free technology which automatically defrosts the freezer. The warm air that enters your freezer when you open the door gets removed thanks to an automatic fan, leaving no chance for ice to build up.
Big Box Storage
Great for when you have taller items to freeze, the big box storage offers extra space.
High Temperature Warning Light
You won't need to worry about your freezer's internal temperature getting too high thanks to the high temperature warning light which flashes red to prompt you to adjust the temperature, keeping your food perfectly frozen.
Flame Retardant Back
All our current refrigeration products are manufactured with either a metal flame retardant back or an aluminium foil covered flame retardant back, providing increased protection. All our refrigeration products exceed UK and European safety standards.
Handy Fixed Door Handle
Offering a stylish element to your appliance, the fixed door handle helps you open and close the door with ease.
UK's No 1
Beko are the UK's number 1 best selling large home appliance brand†. Designed to make your life easier, thanks to super-fast programmes and helpful technologies, Beko products deliver exceptional value for money, providing stylish, high quality, innovative and energy-efficient home appliances.
†Source Euromonitor International Limited; Consumer Appliances 2020 ed, as per major appliances definition, retail volume sales in units, 2019 data
Specifications
Main features
Refrigeration Class
Tall Freezer
Refrigeration Type
Frost Free
Energy Efficiency Class
A+
Adjustable front feet
Yes
Flame Retardant Back
Yes
Wheels
Rear
Reversible door for LH or RH opening
Yes
Maximum ambient temperature for satisfactory operation
43°C
Door Handles
External handle
Freezer Guard
Yes
Minimum ambient temperature required for satisfactory operation
Down to -15°C
Net & Gross Volumes
Net Storage frozen food – cu.ft
9.8
Net Storage frozen food – ltrs
277
Total Net Volume – cu.ft
9.8
Total Net Volume – ltrs
277
Gross Storage frozen food – cu.ft
11
Gross Storage frozen food – ltrs
312
Total Gross Volume – cu.ft
11
Total Gross Volume – ltrs
312
Dimensions & Weights
Product Height (mm)
1850
Product width (mm)
600
Product depth (mm)
650
Carton height (mm)
1930
Carton width (mm)
665
Carton depth (mm)
730
Net Weight (kg)
86
Gross Weight (kg)
92
Freezer features
Adjustable Thermostat
Yes
Defrosting method
Frost Free
Fast Freeze Option
Yes
Freezer Drawers
6
High temperature indicator light
Yes
Ice cube tray with ice bank
Yes
Freezer Shelf with flap
2
Consumption Values & Other Technical Specification
Energy consumption – kWh/Year
326
Frozen food compartment rating
4 Star
Climate class
SN/T
Dimensions & Weights:Approved to BSEN60335
Yes
Freezer Meltdown time (hrs)
18
Freezing capacity fresh food – kg /24 hr
16
Operating noise level – dB(A)
42