Features
Fully Programmable Touch Control LED Display
Great for when you're preparing your food ahead of time, you can set the easy-to-use touch screen LED display to begin cooking at a time that's convenient to you – up to 24 hours in advance.
CleanZone™
Helping you spend less time cleaning, CleanZone™ technology uses a nano coating on the inner glass door that makes it difficult for grease and dirt to cling on. This means that the inner glass door of your oven will stay cleaner for longer, even after multiple uses.
Catalytic Liners
It can be a chore to clean the inside of your oven, but with catalytic liners that catch grease and reduce food odours, you won't need to spend extra time keeping your oven clean.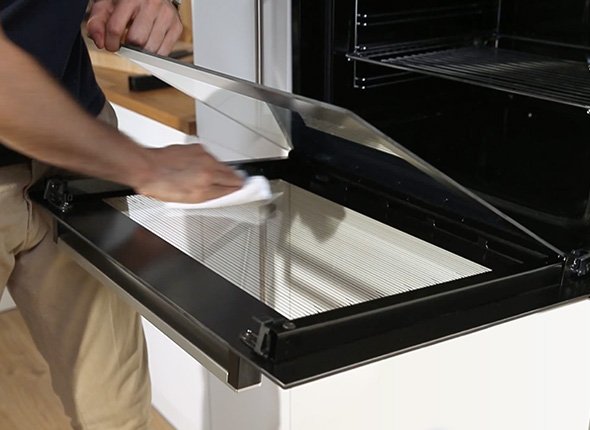 Removable Oven Door Glass
Cleaning your oven's door is easier than ever with the easy-to-remove inner glass door. Free of bolts, you can comfortably slide the glass door out to help you clean even those hard-to-reach spots.
SimplySteam™
We know cleaning your oven can be a chore. With SimplySteam™, your oven will do the hard work for you. Simply pour some water into the tray and as the water evaporates it will soften the burnt-on food and grease in your oven, making it easier to clean.
Easy to Remove Side Racks
Making cleaning the inside of your oven less of a chore, these side racks can be quickly and easily removed.
2 year guarantee on all Beko Built-in appliances
Your appliance comes with a 1 year manufacturers guarantee.
You must register your appliance within 90 days of purchase to extend it to 2 years free of charge.
A Energy Rating
Helping save money on your energy bills, all of our built-in ovens have a minimum energy rating of A.
True Fan Cooking
Always achieve perfectly roasted meat and evenly baked desserts with True Fan Cooking in Beko ovens. The heating element surrounding the fan offers uniform heat throughout the oven for perfect, quick and even cooking results.
Multi-function Oven
Bake perfect cupcakes, roast a delicious Sunday dinner or use the grill to make a hearty but healthy breakfast. A multi-function oven provides you with the ultimate in cooking flexibility by combining a fan and conventional oven, a grill and a host of different cooking functions.
Defrosting
Save counter space and thaw your food quickly and hygienically by using the defrost function in the oven.
Fan Assisted Cooking
Great for perfectly roasted meat and evenly baked desserts, fan assisted cooking uses even heat to speed up cooking thanks to the upper and lower heating elements.
Fan Grilling
This function is perfect for cooking crispy fish, chicken fillets, or meat cutlets. The fan circulates the heat to maintain even grilling.
Interior Oven Light
You can easily keep an eye on your food as it cooks thanks to the interior oven light.
Family Size Tray
Perfect for batch baking, this oven comes with an extra-large family tray, providing a 25% larger cooking area. And, with a depth of 55mm, the tray is great for roasting too.
UK's No 1
Beko are the UK's number 1 best selling large home appliance brand†. Designed to make your life easier, thanks to super-fast programmes and helpful technologies, Beko products deliver exceptional value for money, providing stylish, high quality, innovative and energy-efficient home appliances.
†Source Euromonitor International Limited; Consumer Appliances 2020 ed, as per major appliances definition, retail volume sales in units, 2019 data
Specifications
Top Cavity
Tray Handle
NO
Cavity Type
Easy to remove side racks
Energy Rating
A
Volume (litres)
38
Top Oven Type
Conventional
Grill
Yes
Grill Type
Full width Grill
Grill Power (kW)
2.2
Fully Variable Grill
Yes
Open or Closed Door Grilling
CLOSED
Door Type
Full Glass
Door Opening
Drop down glass door
Removable Door Glass
YES
Enamel Colour
BLACK
Interior Light
Yes
Shelf Positions
2
Shelves
1
Grill Pan with Internal Rack
Yes
Interior Cleaning
Easy clean enamel
Dimensions & Weights
Product Height (mm)
890
Product width (mm)
594
Product depth (mm)
567
Carton height (mm)
950
Carton width (mm)
660
Carton depth (mm)
660
Net Weight (kg)
53.3
Gross Weight (kg)
56.1
Main Cavity
Steamshine Cleaning
Yes
Removable catalytic side walls
Volume (litre)
71
Oven Type
Fully Featured Multifunctional Oven
Tilted Grill
no
Door opening
Drop down
Easy to Clean Enamel Colour
Black
Type of Interior Light
CIRCULAR
Shelf Positions
5
Turnspit
no
Pizza Pan
no
MeatProbe
no
Lava Stone
no
Glass Tray
no
Shelves
2
General Features
Oven Type
Built-in Double Oven
Controls
Push in/ Push out control knobs
Yes
Touch Control
Yes
Control Panel Type
Glass
Yes
Metal+Glass
No
Timer
Glass control panel
Yes
Type
Fully programmable LED timer
Function
Electronic Animated Timer
Oven Functions
Static Cooking
Yes
Fan Cooking
Yes
Static + Fan Cooking
Yes
Fan Grilling
Yes
Grill Cooking
Yes
Static Cooking+Fan (Fan Assist)
Yes
Slow Cooking
Yes
Fan Heating
Yes
Low Grill Cooking
Yes
Full Grill Cooking
Yes
Installation
Minimum Fuse Protection
25 amp
Furniture Apperture height – mm
880
Furniture Apperture width – mm
560
Furniture Apperture depth – mm
555
Carry Handles
Yes
Consumption Values & Other Technical Specification
CE Approved
Yes
Energy Consumption-Main Oven (Kw/h)
0.79
Energy Consumption-Top Oven (Kw/h)
0.79